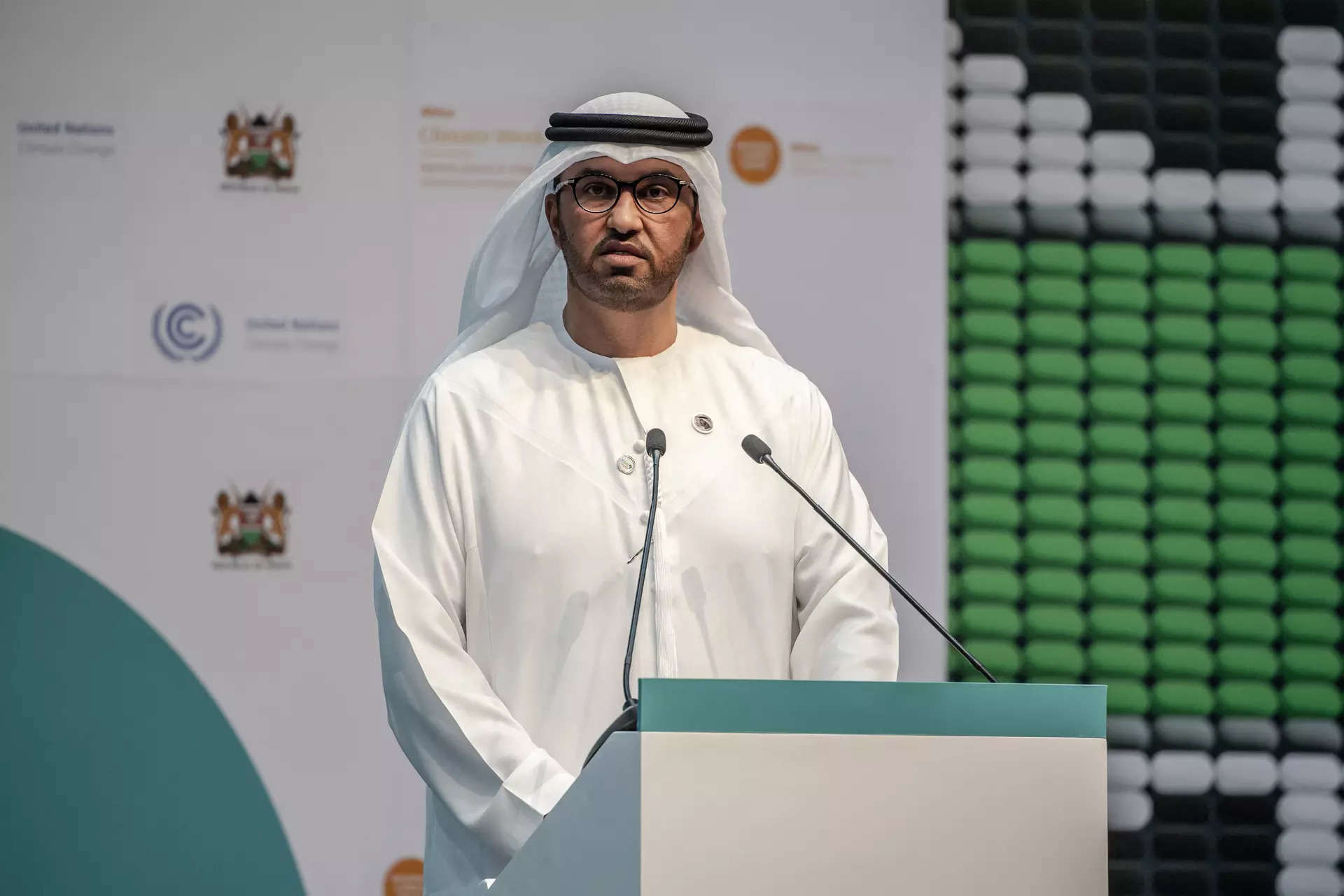 Dubai, COP28 President-designate Dr. Sultan
Al Jaber
on Sunday praised India, the current hosts of the Presidency of the G20, for its energy transition vision even as he acknowledged the critical need for a "new paradigm" in climate finance to ensure every country across global south adopts low carbon development. The UAE and
India
shared a "vision for embracing an energy transition in line with sustainable socio-economic development," Al Jaber said at the 'From
G20
to COP28′ special forum held at Abu Dhabi.
Starting November 30, Dubai would be hosting the COP28, the annual climate change negotiations called the Conference of Parties (COP) under the aegis of the United Nations Framework Convention on Climate Change (UNFCCC).
This joint focus on renewables presents a huge opportunity to develop both economies for the future, he said, and added, "The UAE is a pioneer in renewable energy, home to some of the biggest solar projects in the world and one of the largest global investors in the sector."
Al Jaber thanked the leadership of India in delivering the G20 Delhi Declaration and for the immense progress achieved on core climate actions. He specifically thanked the leadership of Prime Minister Narendra Modi for delivering a global agreement and highlighted the Indian government's strong approach to cooperation and multilateralism, which the COP Presidency aims to emulate.
COP28 would "frame climate action as an opportunity for growth," he said, adding that it would aim for "ambitious and balanced outcomes through the first Global Stocktake, across mitigation, adaptation and means of implementation."
Al Jaber praised Prime Minister Modi's commitment to multilateralism and reminded delegates that, under Prime Minister Modi's guidance, countries representing 85 per cent of the global economy have agreed to COP28's global goal of tripling renewable energy capacity and doubling energy efficiency by 2030. His address comes shortly after the fifth meeting of the UNFCCC Transitional Committee on Loss and Damage that concluded with agreement on a list of recommendations for implementing the Loss and Damage Fund, which will be taken forward at COP28. Al Jaber, however, also acknowledged the critical need for a "new paradigm" in climate finance to ensure every country across the global south can adopt low carbon development – which he told delegates must start with "rebuilding trust" between north and south. He renewed calls for the transformation of climate finance to ensure a "fair and inclusive global energy transition."
"Unmet promises like the USD 100 billion pledge must be fulfilled," Al Jaber said.
"The green climate fund must be fully replenished. Adaptation finance must be doubled. And the fund for Loss and Damage must be fully operationalized at COP28."
He added that "the broader climate finance landscape must be transformed. International Financial Institutions (IFIs) and Multilateral Development Banks (MDBs) urgently need to reframe their mandates to meet growing climate needs."
"More concessional funding is essential to attract more private capital. We need smart policies to ensure the efficiency, integrity, and equity of voluntary carbon markets. And we need innovative models of blended finance to combine catalytic and private investment that can be deployed in emerging and developing economies.
"In short, the clean technologies that are taking off in the north must be available accessible and affordable across the global south," Al Jaber told the delegates.
The COP28 President also called for rebalancing of climate finance to focus on adaptation alongside mitigation, noting that currently "for every USD 10 spent on mitigation, only USD 1 goes to adaptation."
The COP28 will be an opportunity to "show that multilateralism still works," he said, and added, "It is time to replace discord with solidarity … let's bring positivity to climate deliberations and restore hope through united climate action."