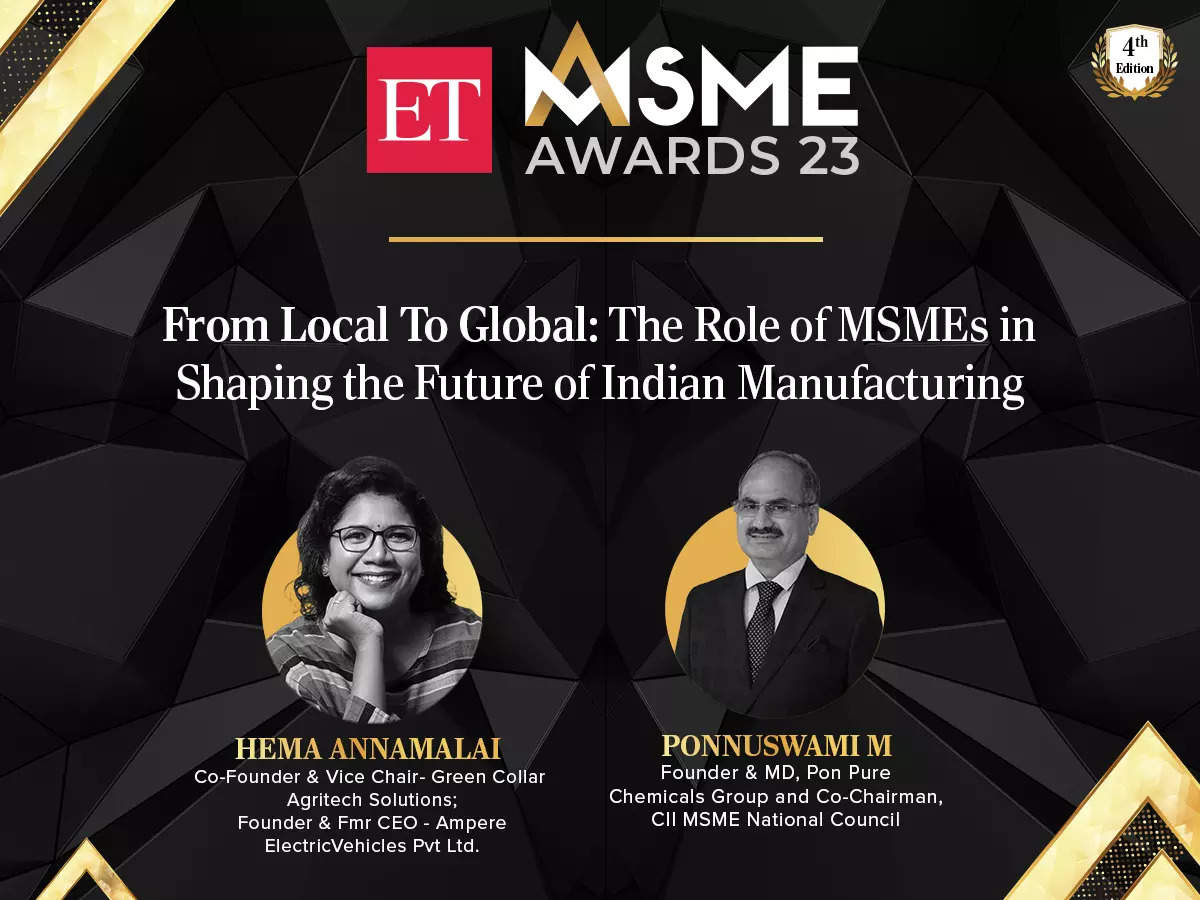 In the heart of India's economic landscape lie the unsung heroes – Micro, Small, and Medium Enterprises (MSMEs). Far beyond their modest size, these enterprises serve as the pillars of innovation, employment generation, and economic resilience. Their pivotal role in not just bolstering the nation's economy but also steering India's trajectory in global trade cannot be overstated.
The ET MSME Awards 2023 serves as a beacon, illuminating and honouring these unsung heroes for their exceptional contributions. Now in its fourth edition, this distinguished event has evolved into a platform that magnifies the brilliance and resilience inherent in MSMEs. Envisioning over 15,000 participants from every nook and corner of the nation, these awards resonate with the spirit of growth and unwavering determination within this indispensable sector.
ET MSME Awards 2023: Know More
Recently, in a compelling conversation titled 'From Local To Global: The Role of MSMEs in Shaping the Future of Indian Manufacturing', luminaries such as Ponnuswami M, Founder & MD of Pon Pure Chemicals Group and Co-Chairman of CII MSME National Council, and Hema Annamalai, Co-Founder & Vice Chair of Green Collar Agritech Solutions delved deep into the essence of MSMEs' transformative potential.
For generations, Indian policymakers have grappled with the manufacturing sector's contribution to the nation's GDP, yet its share has remained stagnant while services dominate and agriculture sustains many livelihoods. Despite challenges, both the government and industry leaders champion India's potential as a manufacturing powerhouse. They emphasise three key elements: domestic demand, government initiatives, and a vibrant youthful workforce, aiming to achieve a trillion-dollar manufacturing capacity by 2030. In the recent episode of the ET MSME Awards 2023 – Jury Dialogues, Ponnuswami M and Hema Annamalai delved into the strategic significance of this sector. How might manufacturing drive India's economic growth and job creation in the coming decade, transitioning from local to global prominence? What role can MSMEs play in shaping the future of Indian manufacturing?
'From Local To Global: The Role of MSMEs in Shaping the Future of Indian Manufacturing' | Watch the full SessionPonnuswami M addressed this concern, acknowledging India's remarkable economic growth while emphasising the need for a conducive ecosystem to entice investors. He highlighted the country's remarkable jump in the ease of doing business rankings, illustrating a shift from obscurity to the 63rd position globally. Ponnuswami further stressed the importance of simplifying bureaucratic processes through a single-window approval system, a step forward in streamlining investments and fostering growth.Hema, a trailblazer in the EV and agri-tech sectors, stressed the significance of nurturing local talent and fostering innovation. "Focus on product innovation, quality, and reliability," she advised aspiring entrepreneurs, underlining the universal appeal of exceptional products. Hema emphasised the importance of carving a niche in the Indian market before venturing globally, urging entrepreneurs to safeguard intellectual property and expand gradually, state by state.
Ponnuswami, representing the industry's voice, delved into the essential collaboration between MSMEs and government bodies. Stressing the need for government support in facilitating local-level initiatives and resolving issues faced by grassroots entrepreneurs, he highlighted the role of policies aiding in skill development, technology access, and funding constraints.
Their dialogue illuminated a pathway for MSMEs, from local success to global recognition, underlining innovation, strategic expansion, and collaborative initiatives as the driving forces propelling Indian enterprises onto the global manufacturing map.
The Journey from Local to Global: Key Takeaways Aspiring Entrepreneurs
Product Excellence: Focus on product innovation, quality, and reliability to attract customers.
Stepwise Expansion: Conquer the Indian market gradually, state by state, before considering global ventures.
Intellectual Property Protection: Safeguard innovative ideas through proper patents and IP protection measures.
Collaborative Ecosystem: Advocate for collaborative efforts between MSMEs and government bodies to address issues at the grassroots level.
Skill Development and Empowerment: Prioritise skill development, technology access, and funding support for aspiring entrepreneurs.
As India's MSMEs continue to fuel growth, generate employment, and contribute significantly to the GDP, their role in shaping the future of Indian manufacturing cannot be overstated. The insights shared by these distinguished voices serve as a guiding beacon for MSMEs, outlining a roadmap to not just survive but thrive in an ever-evolving global trade landscape.
The journey from local to global is not merely a geographical expansion but a transformative narrative where MSMEs emerge as global torchbearers of innovation, resilience, and economic prowess. As they forge ahead, these enterprises epitomise the essence of 'Vocal for Local', transcending boundaries and making an indelible mark on the global manufacturing landscape.
To know more about the ET MSME Awards programme, click here.
ETRise MSME Day 2022 Mega Conclave with Industry Leaders.
Watch Now
.