Americans are set to enjoy their least expensive Thanksgiving holiday since the pandemic, as falling transportation prices and lower costs for festive food basics such as turkey and potatoes bring relief after months of rampant economy-wide inflation.
A sharp sell-off in crude oil markets has pushed pump prices to their lowest levels since January — leaving petrol as cheap as it has been for this time of year since 2020.
Airfares have tumbled too, thanks to a surge in capacity, while food-price inflation, which was running at an annualised 12 per cent October last year, was closer to 2 per cent last month, another sign that months of high interest rates from the Federal Reserve are cooling price rises.
"The inflation outlook is definitely improving," said Jeremy Schwartz, senior US economist at Nomura. "We still think there will be bumps in the road . . . but for now it's been a smoother path than we were thinking going into the holiday season."
The easing of prices ahead of Thanksgiving will be a relief to Joe Biden, whose presidency has been dogged by high inflation. A recent FT-Michigan Ross poll found that just 14 per cent of voters believed that they were better off financially than when the president took office, and 82 per cent said rising prices were the biggest source of financial stress.  
Voters have been giving Biden low marks on his handling of the economy for months, even though the rise in the annual consumer price index has now eased to 3.2 per cent from a peak of 9.1 per cent in June 2022.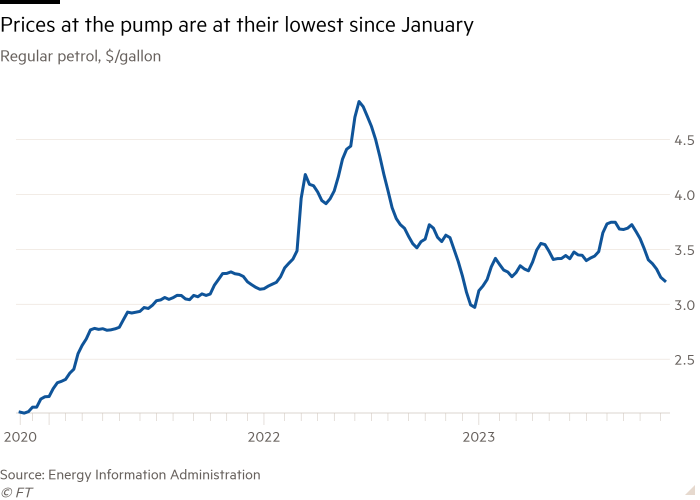 Inflation still remains above the Federal Reserve's preferred target of 2 per cent, and core inflation — which strips out more volatile food and energy costs — is at 4 per cent, even further from the US central bank's goal.
Even so, the improvement should be notable for some consumers over the Thanksgiving period. While food prices in general continue to rise, some staples, such as potatoes, saw declining prices.
A survey by the American Farm Bureau Federation found the average cost of a Thanksgiving dinner for 10 people will be $61.17, a fall of 4.5 per cent from record levels in 2022.
Betty Resnick, an economist at the federation, said that a fall in turkey prices had been "the big driver in lowering costs for the dinner", pointing to "a much better avian flu situation nationally this year". The cost for a dozen large eggs has more than halved from $4.82 per dozen in January to $2.07 in October. Whipping cream and cranberry prices have also plunged.
And as Americans take to the roads and skies to visit family this week, they will pay much less to travel than in recent months — with a sharp drop-off in fuel prices leading the pullback.
Petrol prices averaged $3.21 a gallon in the week to November 13, according to the US Energy Information Agency — down 14 per cent in the past two months alone and well below levels that reached more than $5/gallon last summer. It marks their lowest level for the second week of November since 2020.
"Really the story . . . has been an overall downward trend in fuel prices . . . because you had more supply coming online," said Rob Smith, director of refining and marketing at S&P Global Commodity Insights.
"It's good news for the holiday season, for sure," he added. "Prices should remain low or continue to drop a bit lower through the end of the year."
A stumbling Chinese economy has helped to ease global crude demand growth, while record US production has pushed up supply. Brent crude, the international oil marker, settled at $80.55 a barrel on Friday — down almost 20 per cent since late September.
Experts have warned that crude could rise again quickly. Oil powerhouse Saudi Arabia is considering further production cuts, while the risk of supply disruptions if the Israel-Hamas conflict spreads through the Middle East has not dissipated.
Airline ticket prices have also eased off, as budget carriers lowered fares in the face of shrinking demand and abundant supply of seats and flights. The companies have a greater ability to fine-tune their schedules, charging more on popular travel days and offering fewer flights at other times, to ensure holiday flights remain pricey, experts said. Still, airfares in October were 13.2 per cent lower than a year earlier and are now cheaper than in the year before the coronavirus pandemic.
"There have been reports of double-digit fare discounts advertised across airlines, which points to continued declines in airfares," said Jefferies analyst Sheila Kahyaoglu.
Despite the drop-off in travel prices, the inflation that has heaped pressure on cash-strapped households over the past few years persists, forcing shoppers to pull back spending and prioritise essentials.
Target has said customers are increasingly delaying spending to the last minute. "This is a clear indication of the pressures they're facing as they work to stretch their budgets until the next pay cheque," chief executive Brian Cornell told analysts last week.
There are signs relief from price pressures are broadening out. Walmart reported that a fall in prices for chicken and dairy, with declines also beginning to show in "dry" groceries, consumables and general merchandise. 
"As we look ahead to next year, we could find ourselves in Walmart US with a deflationary environment," said Walmart chief executive Doug McMillon.
Additional reporting by James Politi, Peter Wells, Sam Learner and Oliver Roeder