Mars will buy Hotel Chocolat in a staggering £534million cash deal to help boost the luxury British chocolate brand expansion overseas. 
The co-founders of Hotel Chocolat, Angus Thirlwell and Peter Harris, will each get £144million after agreeing to sell the business to Mars. 
The move will help Hotel Chocolat, which has 130 stores across the UK and a presence in Japan, 'grow further and faster' after it said operational supply chain challenges had 'held us back' on international growth.
The takeover by Mars Inc – which also owns the Celebrations, Dove, M&Ms and Snickers food brands – saw Hotel Chocolat shares soar by 161 per cent this afternoon in response. 
Mars said it would pay 375p a share – a huge 170 per cent premium to Hotel Chocolat's closing share price of 139p last night. 
Takeover: Mars has announced it will buy Hotel Chocolat in a £534m deal to help the UK-based luxury chocolate brand expand its sales overseas
Hotel Chocolat was named after the luxury hotel on its Saint Lucian cocao estate which overlooks a UNESCO world heritage site and the island's iconic Petit Piton Mountain. 
Chief executive Angus Thirlwell said: 'Hotel Chocolat's brand destiny is to become a leading premium chocolate brand in major markets through reinventing chocolate for people and nature. 
'In Mars we have found a true meeting of minds – in strong cultural values, bold strategy and true long-termism.
'Our Gentle Farming programme has got off to a promising start and we truly believe it can help make cocoa agriculture right for nature and for people. Joining forces with Mars to achieve an increased positive impact, is a huge attraction for us.
'We know our brand resonates with consumers overseas, but operational supply chain challenges have held us back. By partnering with Mars, we can grow our international presence much more quickly using their skills, expertise and capabilities.'
In charge: Hotel Chocolat chief executive Angus Thirlwell set up the brand 20 years ago aiming to bring ethical and affordable luxury chocolate to the British high street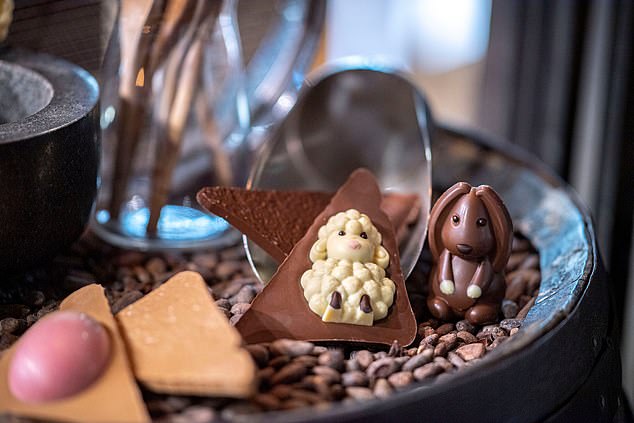 Shops: Across the UK there are 130 stores, with Hotel Chocolat also having a presence in Japan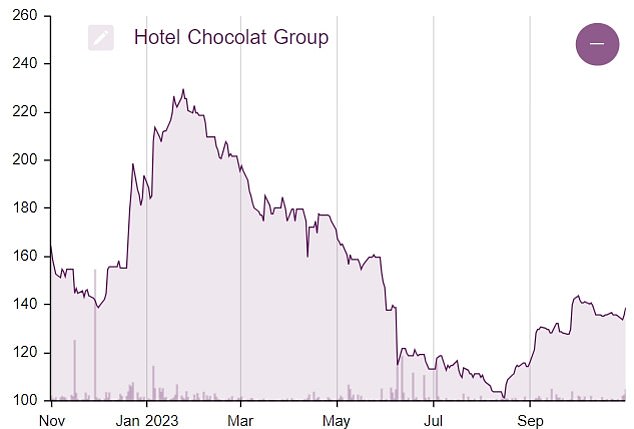 Share price: A chart showing Hotel Chocolat's share price over the past year
The owner set up the brand 20 years ago aiming to bring ethical and affordable luxury chocolate to the British high street. 
Concerns are mounting that many UK businesses are 'sitting ducks' ripe for being taken over by huge global corporations.
The deal between Hotel Chocolat and Mars reignites concerns about a perceived undervaluation of UK-listed companies and the seemingly waning attractiveness of listing in the UK.  
Chief executive of fund manager, Crystal Amber, Richard Bernstein warned more UK businesses are becoming targets for takeovers by global corporations. 
On X, previously known as Twitter, Bernstein said the 'absurdity of UK small cap valuations [was] demonstrated again today' in reference to the Hotel Chocolat takeover. 
Dubbed Britain's real-life Willy Wonka, Mr Thirlwell, previously told the Mail he set up the shop after ditching a career in computing.
'I met co-founder Peter Harris at a computer firm in Cambridge. Computing is so complicated, we talked about doing something simpler,' he said.
'We started selling peppermints – it was the most niche product ever. After a while customers wanted a range of products so we started looking into chocolate.'
The entrepreneur family is no stranger to running their own business selling sweet treats.
His father, Edwin Thirlwell, co-founded Mr Whippy before selling it off an moving the family to Barbados. 
It was when he was living in the Caribbean that he first became interested in the chocolate making process.
Mr Thirlwell said :'In Barbados all the chocolate was American and I wasn't very keen on it. 
'Instead we used to drink chocolate tea, which is a healthier, simpler version of hot chocolate you make by boiling ground cocoa beans and adding milk and sugar.'
Hotel Chocolat has been operating at a loss after major restructuring efforts last year which helped to bring down costs.
It agreed to a new tie-up in Japan in January after the costly collapse of a previous joint venture in the country.