When Justin Singletary heard Volkswagen was building its first US electric vehicle factory in his town, he began to expand his real estate business to capitalise on the economic boom he expected would follow.  
Several months later the 33-year old realtor has already built and sold a home to a Volkswagen executive. He is in talks to develop four housing lots in anticipation of an influx of hundreds of workers to Blythewood, a small town of about 5,000 people near Columbia in South Carolina.    
Ground clearing has begun on the 1,600-acre EV site, which will not start production until 2026. The factory, worth $2bn, is one of many projects being built across the US on the back of lucrative federal tax credits and state subsidies, with South Carolina doling out a record $1.3bn in taxpayer funds to lure Volkswagen, which is launching production under its US brand Scout Motors.
"It's going to shift the economy in Blythewood, and it's going to shift the community to a greater level," said Singletary, 33, owner of JS Premier Real Estate. "This opens up an opportunity for a lot of people who can't really find their way out." 
Many rural economies across America are betting the Inflation Reduction Act, President Joe Biden's landmark climate law, will spur an economic transformation in their communities. Cleantech manufacturing projects now pepper the country, with more than $84bn invested one year after the law's passage, the majority of which are located in Republican-controlled districts.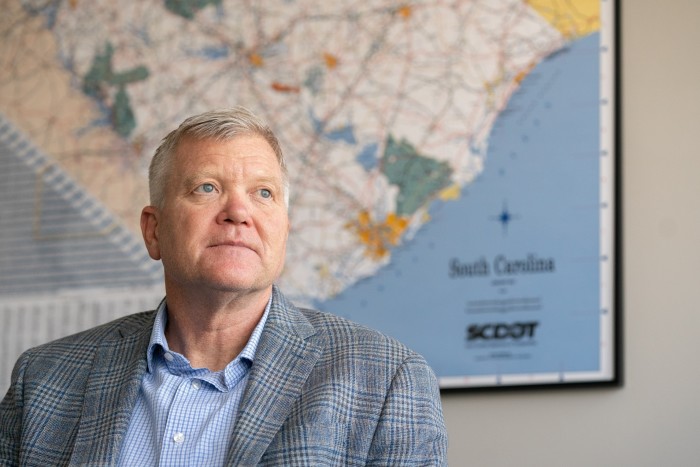 The influx of manufacturing dollars could revamp many of the towns and regions that have won projects. But it brings challenges too. Companies are struggling with labour shortages and some local residents are fearful of what changes the investments will bring. Republican efforts to repeal the IRA, meanwhile, could cause some projects to falter, harming those small towns that have reshaped their economies on the prospect of a manufacturing renaissance.
Whether the US factory buildout succeeds will be determined in part by places like Blythewood. It has become a test case for whether the promise of economic opportunity and jobs can cement support for the transition to renewable energy. The Scout Motors factory is located in a county that voted for Biden but in a state and district that is Republican. 
"This is going to be transformational . . . We struck gold with Scout," said Jeff Ruble, head of the county's economic development agency, who courted multiple solar and battery companies before securing Scout Motors.
"They've convinced me that electric vehicles are the way to the future . . . I would have never gone out and bought one, and now I'm going to be the first in line for a Scout vehicle," Ruble said.
The Scout Motors plant plans to hire more than 4,000 workers in the town and neighbouring area. Reviving the SUV in an electric form is part of Volkswagen's strategy to generate more market share and improve the appeal of EVs with an all-American brand.
The population of Blythewood, once a rural town known for its cotton and indigo plantations, has more than doubled in the past decade as state government workers and retirees flocked to the countryside in search of quieter and cheaper living. Its median household income is almost twice the rest of the county's at $102,000 a year, according to US Census data.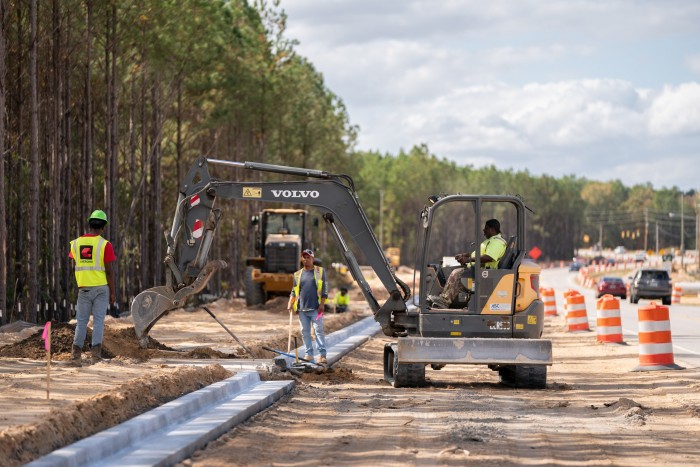 There has been some backlash against the factory from the county's retired and middle-class residents, who worry industrialisation will destroy the neighbourhood's southern charm.
"People don't move here to have it become another Detroit. A lot of retired people moved here because it's a quiet town. It's country," said Sandie York, a resident of 23 years.
"What if this doesn't last 10 years down the road? What do you leave behind?"
In 2002, US-based Mack Truck closed its operations in neighbouring Fairfield County, eliminating hundreds of high-paying jobs overnight.
"When Mack left, it left a big hole," said Gene Stephens, a spokesperson for the county's economic development arm, which is preparing sites to secure Scout Motors suppliers and gearing up to build new housing for employees.
"You had 600 high paying jobs that didn't exist anymore. It was tough for us to overcome."
Younger and minority residents say that the jobs are needed in a county where positions for workers without four-year college degrees often only pay the minimum wage.
"Most of the older white people here have all the money," said Singletary. "Our generation, we're just trying to get to where they are. What do we need to do that? We need jobs."
The annual salary for an hourly employee is expected to average nearly $60,000 at the factory, about four times the state's minimum wage, which is among the lowest nationally. By 2029, the factory is expected to generate $4.2bn in economic activity, according to a study by the University of South Carolina's Darla Moore School of Business.
"It's going to bring money and business here," said Kevin Robb Jr, a kitchen manager at a Caribbean restaurant near the site. He's sceptical of EVs but hopes the factory will bring more late-night diners to the sleepy town.
The local trade school, Midlands Technical College, is tailoring a custom programme to help train and mobilise the 4,000 workers needed for Scout Motors, sending university administrators to Volkswagen's factory in Germany to identify the necessary skills.
"This is a new horizon for the country . . . the types of skill sets that people are going to need is going to make our country a lot more competitive," said Ronald Rhames, president of MTC, adding that the factory would "open up more opportunities for minorities" for great jobs. About 45 per cent of the students at MTC are people of colour.
The package of incentives South Carolina offered to secure this transformation includes plans to build a new railroad bridge, a motorway interchange and other infrastructure improvements.
The Republican state has been a "very aggressive" recruiter of electric vehicle and battery projects, securing $6.2bn in manufacturing last year — among the top five states, according to the EV Jobs Hub. Scout chose Blythewood over 73 other locations for its project.
"A lot of what we're seeing in terms of the development of the battery supply chain in the United States is occurring because of the incentives in the IRA," said Harry Lightsey, the state's commerce secretary under Republican governor Henry McMaster, who last year called the IRA a "reckless tax and spending spree".
The state's support for EV investment from the IRA deviates from broader party calls to repeal the climate law. Former South Carolina governor and Republican presidential candidate Nikki Haley called the IRA a "communist manifesto" on X in August and said she would repeal the law as president.
Scout Motors executives said their plans to manufacture in South Carolina were a "generational commitment" and that they were making infrastructure improvements to accommodate the additional traffic and awaiting federal approval for wetlands construction. They hope the economic benefits of the IRA will reinforce the importance of tax credits if there was a change in administration in the upcoming 2024 election.
"This is bringing manufacturing back into the country. This is bringing jobs, and that's a good thing whether you're a Republican or a Democrat," said Neil Sitron, general counsel for Scout Motors.