For students and their families, this could be the most expensive back-to-school season to date.
This year's total back-to-school spending, including for college students, is expected to reach a record $41.5 billion, up from $36.9 billion last year and the previous high of $37.1 billion in 2021, according to the National Retail Federation. Families with children in elementary through high school plan to spend an average of $890.07 on school supplies, $25 more than last year's record of $864.35, the NRF found.
As a result, 43% of back-to-school shoppers will have to leverage some form of financing to pay for supplies this year, a separate CNET Money survey found. Already, credit card debt stands at more than $1 trillion, its own all-time high.
On the upside, shoppers were more likely to say buying more supplies and more expensive items were to blame for the bigger bill this year, rather than higher prices, according to the NRF data.
Still, inflation has taken a hefty toll. CNBC recently used the producer price index — a closely followed measure of inflation — to track how the costs of making certain items typically purchased for students has changed between 2019 and 2023.
Those increased costs are often passed on to consumers in the form of smaller products or higher prices.
In every case, families are now paying more for key back-to-school essentials ahead of the new school year. For example, backpack prices have increased less than they have for other goods, but they are still 10.5% higher in June 2023 than they were in the same month in 2019.
How to save money on back-to-school shopping
Philippe Huguen | AFP | Getty Images
For starters, only shop for "the absolute necessities right now," advised Julie Ramhold, a consumer analyst at DealNews.com.
Students may have to start the school year with notebooks, binders, paper, pens and pencils, but other purchases, such as a new backpack or lunchbox, can be put off until retailers start clearing out their excess inventory around Labor Day.
If you don't need a new coat, boots, laptop or headphones right away, Ramhold recommends waiting until October or November, when the discounts on fall clothing and electronics will be greater.
A price-tracking browser extension such as CamelCamelCamel or Keepa can help you keep an eye on price changes and alert you when a price drops.
More from Personal Finance:
Rather than a recession, we could be in a 'richcession'
61% of Americans live paycheck to paycheck
Many young couples don't split costs equally
In addition to shopping for the best price, take advantage of sales tax holidays, when many states lift sales taxes for a few days, according to RetailMeNot's shopping experts. You can check your state's website for dates and details on which purchases qualify.
For example, New Jersey waives its 6.625% sales tax rate on supplies and sporting equipment between Aug. 26 and Sept. 4, which means shoppers can save as much as $200 on a $3,000 computer.
Consumer finance expert Andrea Woroch recommends applying, if you qualify, for a new credit card with a sign-up bonus. Among her top picks is the Capital One Quicksilver Cash Rewards card, which will give you $200 back when you spend $500 in the first three months.
Also, "review your credit card rewards programs to figure out which one will get you the most cash back or points for your school supply purchases," she advised.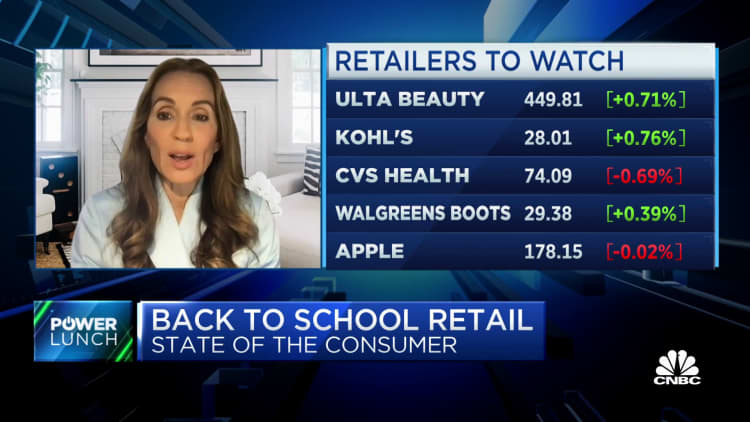 Then use a cash-back site such as CouponCabin.com to earn money back on online purchases, including back-to-school supplies from Target, Walmart and Macy's.
The experts at RetailMeNot recommend stacking discounts; for example, combining credit card rewards with store coupons and cash-back offers while leveraging free loyalty programs.
For example, Target Circle members can get a 20% discount on college supplies purchased through Aug. 26 and Amazon is offering Prime members 20% off school supply purchases over $50. 
But beyond the big-box stores, you may be able to save even more by shopping gently used sporting goods, school supplies and clothing on resale sites and certified-refurbished electronics from reputable retailers, Woroch said.
You can get half off backpacks and lunch totes on eBay, 75% off clothing at Poshmark and ThredUp, up to 80% off sporting goods at Sideline Swap and as much as 60% off certified-refurbished laptops, tablets and graphing calculators on Amazon Renewed, Woroch said.
Otherwise, shop your own stock, she added. "Tear out pages from half-used notebooks, dust off old folders and binders, and make a pack of crayons or markers from a scattered set. Finally, throw that dirty backpack in the washing machine to make it look new."
If there's something you're still missing, swap gently used supplies with neighbors, join a local Buy Nothing group or set up a clothing or supply exchange through your school, Woroch advised.