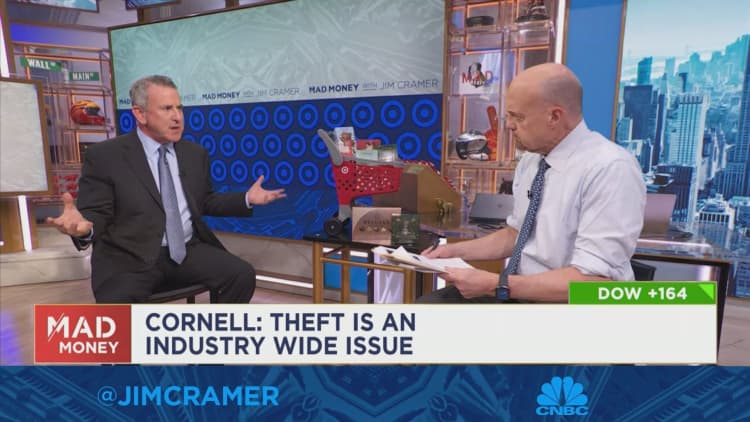 In a Wednesday interview with CNBC's Jim Cramer, Target CEO Brian Cornell said retail theft is an issue plaguing the entire industry, not just his company.
Cornell said the company has been upfront about its problems with theft in order to advocate for government reforms for the industry. He said government agencies are paying more attention to the matter, citing the Inform Act, which was passed earlier this year and aims to curb online sales of counterfeit merchandise.
"I'm really pleased with the progress that we've seen," he said, "but this isn't a Target issue, this is a retail issue."
Target said in September it would close nine stores in major cities, including New York City, Seattle, San Francisco and Portland, citing violence, theft and organized retail crime.
But despite closing locations, Cornell insisted that the company is still committed to having a strong presence in urban areas, mentioning there are many more stores in cities like New York since he began his tenure as CEO about ten years ago.
"We didn't have a presence in Manhattan. We've had 12 stores now. We just opened up a new one in Union Square," he said. "And those stores are part of the community. So we are very committed to those stores, we're committed to growing our store base."
Target's stock jumped nearly 18% Wednesday, spurred by an earnings report that easily beat Wall Street's expectations.