There are plenty of options when it comes to great smart home devices, but few have the potential to impact your overall comfort more than a Wi-Fi thermostat. If you want to remotely control the temperature in your home, save energy with more efficient heating/cooling, or just want to engage in the longstanding thermostat war with your significant other from anywhere in the world, a smart programmable thermostat is for you.
After extensive testing, we can confidently say that the Nest Learning Thermostat (available at Amazon) is the best smart thermostat. Its easy setup, intuitive controls, and voice-controlled personal assistant compatibility make it the best choice, regardless of your experience with smart home products. Looking for something cheaper? The Wyze Smart Thermostat (available at Amazon) is full of features and value.
These are the best smart thermostats we tested, ranked in order:
Nest Learning Thermostat
Wyze Smart Thermostat
Amazon Smart Thermostat
Nest Thermostat
Emerson Sensi Touch Wi-Fi Thermostat
Ecobee SmartThermostat with Voice Control
Emerson Sensi Wi-Fi Thermostat
Honeywell Lyric Round Thermostat
Ecobee3 Lite Thermostat
Honeywell Lyric T5 Smart Thermostat
Honeywell Home T9 Smart Thermostat
Cync Smart Thermostat
Glas Smart Thermostat by Johnson Controls
Lux Kono Smart Thermostat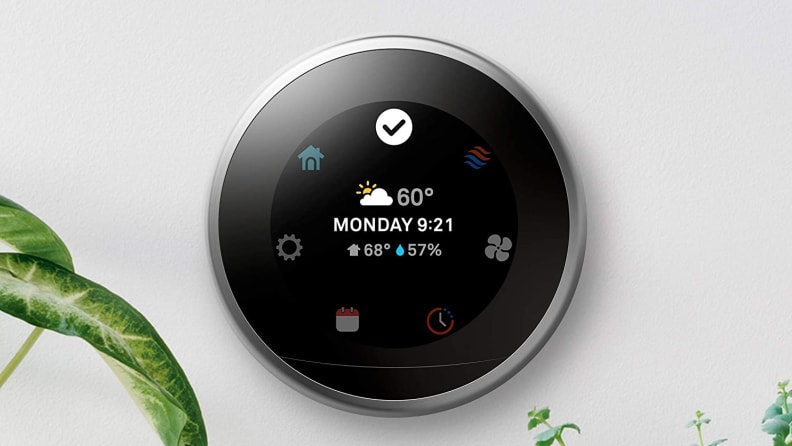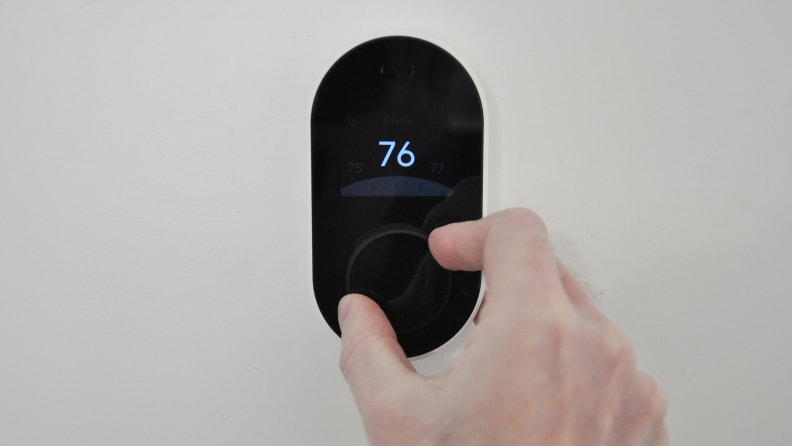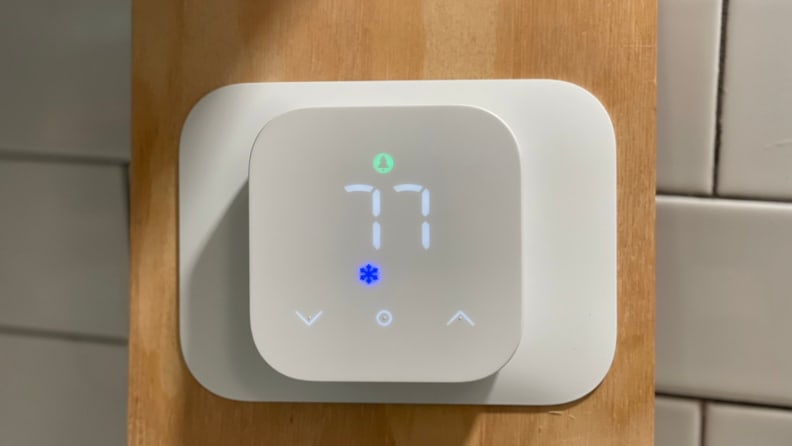 How We Test Smart Thermostats
The Testers
Whitson Gordon, a freelance tech writer charged with testing smart home gadgets (among other things) here at Reviewed, contributed to the testing for this guide. Gordon has been writing about tech professionally for over 10 years, from building computers to setting up smart homes. He served as the editor-in-chief of Lifehacker and How-To Geek before starting a freelance career writing guides for publications like The New York Times and PCMag.
Rachel Murphy, Reviewed's smart home senior staff writer, also contributes to the testing in this guide.
The Tests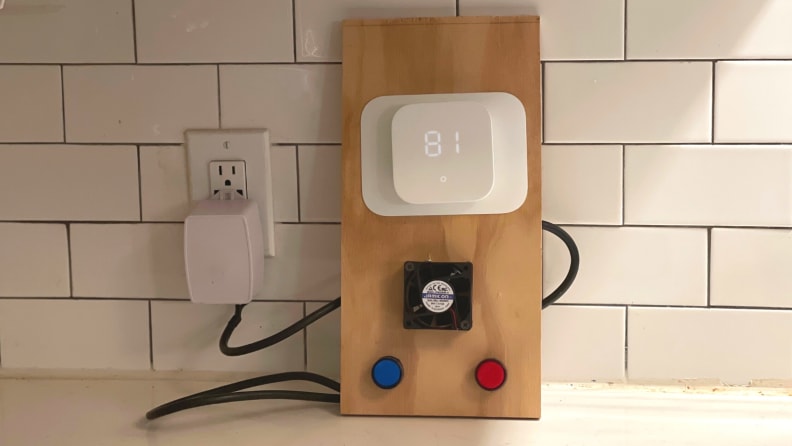 We tested smart thermostats in a real home using a standard HVAC system which includes a C-wire. We also tested some of the thermostats rig built by Reviewed's Chief Scientist, Dave Ellerby, using a five-wire setup commonly found on most HVAC systems: W for heat, Y for cooling, G for a fan, R for 24V AC, and C for 24 AC common. We have noted their compatibility with non-C-wire-equipped systems where applicable.
For each thermostat, we safely switched off the HVAC circuit breaker, installed the backplate, mounted the front of the thermostat, and configured it with the smartphone app on both an iPhone and Android phone.
Once we had successfully installed and programmed the thermostat, we let it run while we tested out the app, the thermostat's responsiveness, and voice assistant functionality. Using Alexa, Google Assistant, and Siri, ,we put the thermostats through their paces.
We also tried out the extra features on each thermostat to make sure that they are actually useful. This primarily includes scheduling and geofencing, but can also include other features like room sensors.
What You Should Know About Buying Smart Thermostats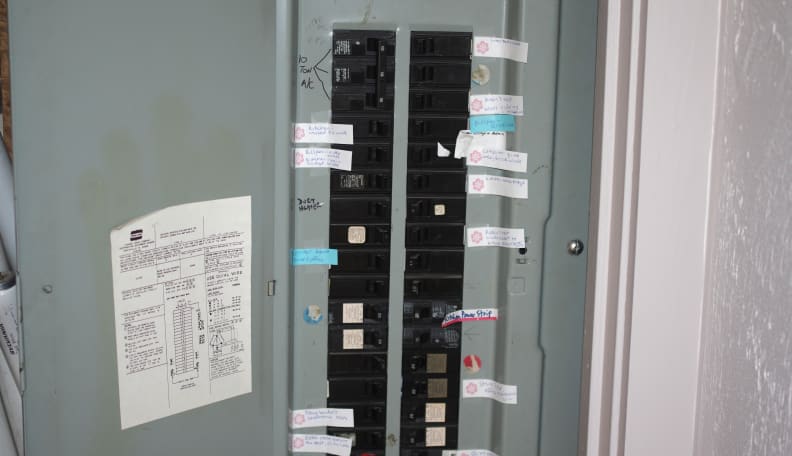 If you're shopping for a smart programmable thermostat, be sure to answer these questions before you buy anything:
What kind of cooling and heating system do you have? Make sure you know your system before you buy a thermostat designed for central air.

Will your current HVAC setup work with a smart thermostat? (You may want to consult a professional before continuing.)

Do you have a C-wire? Most smart thermostats require a C-wire. Some thermostats will work without it or may require a separate conversion kit or adapter.

How much smart functionality do you want? Are geofencing (location-based) or "learning" requirements, or do you just need basic remote access from your phone?

Do you use smart assistants like Amazon Alexa, Siri, or Google Assistant? Are they compatible with the smart thermostat you're investigating?

Is the wall behind your current thermostat clean/neat enough to be exposed, if you replace your current model with a smaller thermostat? If not, are you willing to patch and/or paint that area?

Will you want to install the smart thermostat yourself, or will you want a contractor to do it? Keep in mind that contractors may favor smart thermostats not available for resale.

Finally—and perhaps most importantly—who will use this thermostat, and what is their level of tech-savviness? Just because you're comfortable using complex smart devices doesn't mean your spouse, roommate, or kids are, which may impact the thermostat you ultimately choose to buy.
We've addressed these concerns (and more) in our buying guide here, so be sure to read the entries thoroughly if you want to get the best smart thermostat for your family.
Privacy
There's always a potential privacy risk involved when you use internet-connected devices at home. To help safeguard your smart home, there are some steps you can take. First, look for devices that offer two-factor authentication, which sends a code to your mobile device to verify it's really you. That way, if someone tries to hack into your account, you will receive an alert and can quickly take care of the problem. Many devices also allow you to activate email or other push notifications in the settings to alert you if someone has logged on.
Additionally, make sure to use a unique, strong password composed of multiple characters, numbers, and letters for each of your smart home accounts. Data breaches feel like the norm as of late, making it all the more important to use different passwords across multiple websites and apps.
When using any devices with smart assistants like Alexa, Google Assistant, and Siri, you can further protect your privacy by regularly deleting your voice recordings and muting the speaker's mic when it's not in use.
Looking for more privacy tips? Read our guide to securing your smart home.
---
Other Smart Thermostats We Tested
More Articles You Might Enjoy