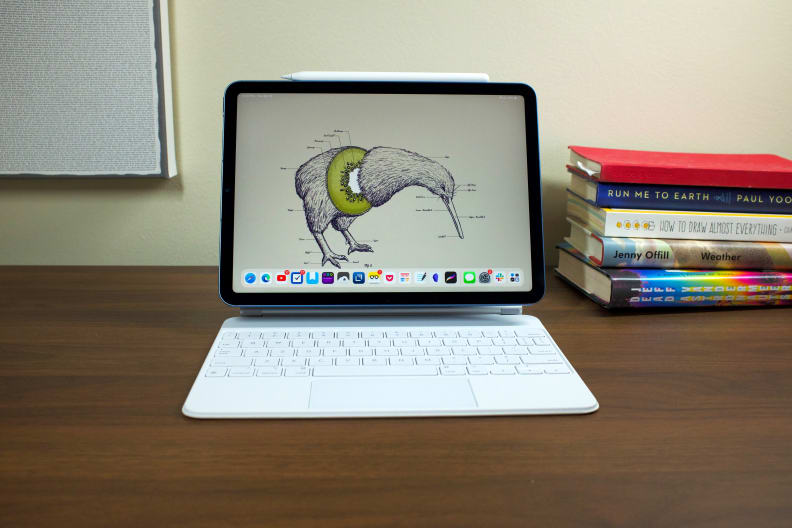 Other Tablets We Tested
How We Tested Tablets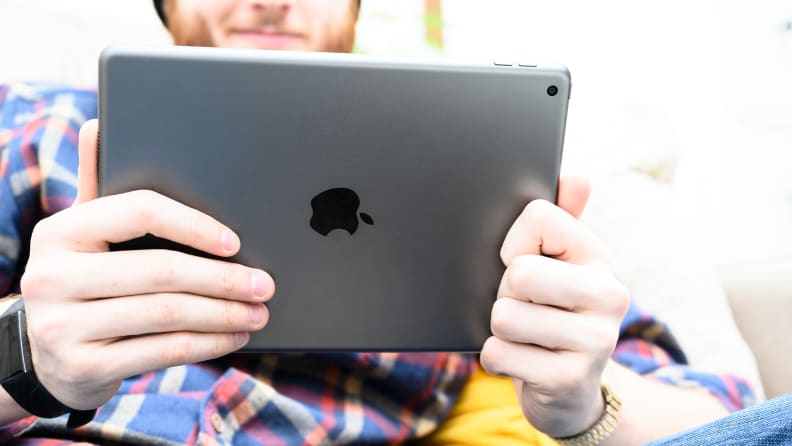 How We Decided on Top Picks
While some of our top picks in this guide are amazing for productivity, all of them should do a fine job of allowing you to consume your favorite content. You'll be able to play games of varying complexity. You can use any of them to stream video from services like Netflix, HBO, or Disney+. Reading comics, a good book, or browsing the internet? You bet.
If any of this sounds like something you're looking for in a mobile device, you've come to the right place.
We decided which products to call in by looking at how portable they were (larger than an oversized smartphone, but not so large that it's a nuisance to tote) and ensuring each had a minimum amount of storage to effectively watch HD movies, flip through high-resolution photos, listen to music, and play games. We also made sure that those looking for a laptop replacement (or at least stand-in) were well accounted for. In short, whether you're trying to get serious work done on the move or just stream Netflix, there's a product on this list for you.
The Testers
Jordan McMahon
Hi, I'm Jordan McMahon. I'm a tech reviewer focused primarily on laptops, tablets, smartwatches, and apps. I've been writing about technology since 2017, and mashing buttons since the mid-90s. I've covered products ranging from tablets and apps to fanny packs and home office gear. I've also written extensively about digital well-being and building better relationships with the tech in our lives.
Matthew S. Smith
Matthew S. Smith is a freelance technology journalist and product tester with 15 years of experience. His work can be found on dozens of publications including Reviewed, PC World, IEEE Spectrum, Wired, and Insider. Prior to freelancing, he led the product reviews team at Digital Trends.
Joanna Nelius
Joanna is Reviewed's Senior Electronics Editor. She focuses primarily on CPUs, graphics cards, and nearly everything else dealing with gaming—even in the tablet space.
Seamus Bellamy
My name's Seamus Bellamy. I'm Reviewed's Senior Updates Editor and a HUGE ultra-portable device nerd. If fits in a pocket, takes up next to no space in my backpack and allows me to get work done on-the-go, I'm all over it.
I've been using tablets since 2010, when I purchased the first iPad and a Motorola XOOM. Back then, these devices weren't capable of much, but I saw their potential and stuck with them. Over the past decade, I've written about tablets and their related accessories for The Wirecutter, MacLife Magazine, Macworld, Maximum PC, The Globe and Mail, Tab Times and Boing Boing. Hey, look: I'm writing about them here now, too!
Christian de Looper
My name is Christian de Looper. I'm a tech reviewer and contributor to Reviewed.com that has long focused on mobile products of all kinds, from smartphones to tablets to mobile virtual reality headsets.
My first tablet was the second-generation Google Nexus 7, which was released in 2013. Since then, I've owned multiple generations of iPads, and my current main device is a 2020 iPad Pro, which I loved so much that I replaced my laptop with it. I've reviewed all kinds of products over the years, including those from Amazon, Samsung, and Apple.
The Tests
The best way to test a tablet is to spend quality time using it as you go about your day. After loading each of the devices in our test group up with the apps (when we could find them) we use to do our jobs or to unwind with, we spent days with each device to figure out how it works as a full-time companion. Was it pleasant to hold and use for long periods of time? How were its speakers? Did its build quality and design make it feel like a sound investment? These were just a few of the things we thought about as we used each of the products featured in this guide. In addition to taking notes on our subjective experiences with each of the tablets, we also paid careful attention to the following tests that Reviewed Senior Scientist Julia MacDougall and Seamus Bellamy developed:
How easy it was to type 300 words using each tablet's on-screen keyboard
How capable each device was of editing a DMG or RAW format image in Adobe Lightroom Mobile (if the app was available to download.)
How accurate using a stylus, where applicable, was with each device, paying close attention to how the stylus performed both as a writing and drawing implement
Assessing the quality of streaming video that each tablet was capable of reproducing after watching 10 minutes of YouTube HD video content
How easy it was to browse the web using each tablet's built-in browser
Shooting a variety of photos and videos with each device to assess the quality of their cameras
Repeatedly playing the same locally stored HD movie with each device's volume and display brightness set to maximum and all background services running (Bluetooth, Wi-Fi, etc.) to assess how long its battery would last
Which Tablet Operating System Is Best?
While to some degree that's a matter of taste, most people will do best with iPadOS for its simplicity of use, stability, security, and the long-term free operating system and security updates that Apple provides. Others dig Windows 11 because of an almost endless variety of desktop and (considerably fewer) tablet applications that can be run on the platform. Android is lauded by those who appreciate the ability to customize most aspects of their tablet's user experience and for how easily files can be transferred between Android devices and a Windows 11 computer. But Android falls short by not offering all its smartphone apps for its tablet.
Given the relatively steep purchase price of most tablets, it's best to consider which OS and app ecosystem is best suited to meet your needs. But for most users, we recommend Apple iPad.
A Word About Updates and Security Patches
There are a lot of clever, inquisitive hackers out there who intentionally or unintentionally could do your digital life a great deal of harm. Where tablets are concerned, the best way to maintain your personal privacy and secure your device is to download operating system updates and security patches as soon as they become available.
Unfortunately, not all manufacturers roll these updates out in a timely manner. Apple is known for releasing timely security patches as soon as they can in the wake of a vulnerability being discovered in iPadOS. You can also expect to see free yearly updates to your iPad's operating system that improve the tablet's stability, provide new features, and, on occasion, offer a boost in speed. Despite being one of the few companies in the world still producing high-quality Android devices, Samsung has traditionally proven slow on the update uptake. The Galaxy Tab S5e, which was released in April 2019, came out of the box with Android 9 (aka Android Pie) as its operating system and was only updated in June 2020. In short: when choosing a tablet, be sure to check on the level of support and how often that support is doled out.
Now, let's talk about support cycles.
Manufacturers are always working on the next best device to lure consumers into buying their wares, even if they don't need them, year after year. When shopping for a tablet, you should look for one made by a company with a history of supporting its hardware for a long time. Once again, Apple is a fine example. In fact, if you buy an Apple device, chances are that your battery will need to be replaced before it stops getting OS updates. Same with a Windows device.
In the Android world, things are not always so bright: Many companies offer a modified version of Android to tablet users that comes, in addition to Google's apps and services, with their own selection of apps—for better or worse. As such, when the latest version of the Android operating system is released, companies that skin or modify the OS on their tablets in other ways will have to do some additional work to ensure that the device's additional features will be compatible with the latest update. Sometimes this work is done quickly so that the users of the company's tablets can enjoy their device's new features and updated security. In other instances, the updated OS may not ever be made available. It's a good topic to research before forking over your hard-earned money for a new tablet.
More Articles You Might Enjoy
Checking our work.
Our team is here for one purpose: to help you buy the best stuff and love what you own. Our writers, editors, and lab technicians obsess over the products we cover to make sure you're confident and satisfied. Have a different opinion about something we recommend? Email us and we'll compare notes.