Celestia (TIA) cryptocurrency represents a modular network that facilitates the straightforward deployment of individual blockchains with minimal overhead. This innovation simplifies the process for anyone looking to establish their blockchain, offering a user-friendly approach to development.
The scalability of Celestia is a result of rethinking blockchain architecture from the ground up. By adopting a minimalistic approach and decoupling execution from consensus, TIA introduces a novel primitive called data availability sampling. This strategic design choice contributes to the platform's efficiency and adaptability.
The distinctive feature of this crypto is flexibility, as it refrains from imposing execution or settlement constraints. This unique approach allows developers to define their execution and settlement environments.
TIA price surge
At the time of press, TIA's price was $6.32, which comes after a 15.99% gain made in the 24-hour period and an impressive 163.45% increase in value over the previous 7-day period, topping off an almost 200% surge in price during the last month.
Its market cap skyrocketed in just 15 days, from a near non-existent to a remarkable $885 million on November 15. The growth of TIA's value is believed to coincide with the launch of Celestia's mainnet beta on October 31, marking the commencement of the modular blockchain era.
Another factor that may have bolstered its value is the asset listing on Binance, highlighting promising scalability solutions—a challenge competitors like Ethereum (ETH) and Solana (SOL) have grappled with in delivering to their users.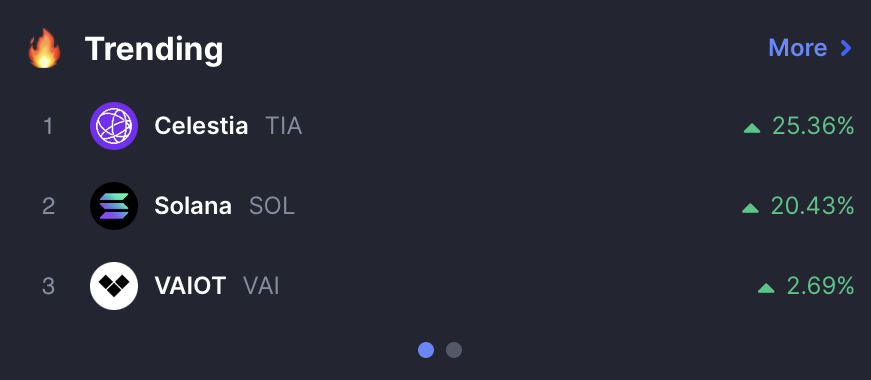 However, Celestia's online buzz has experienced a substantial decrease. Despite this reduction in social media activity on platforms such as X, Telegram, and Reddit, TIA maintains a prominent presence on CoinMarketCap.
Disclaimer: The content on this site should not be considered investment advice. Investing is speculative. When investing, your capital is at risk.