Arbitrum is one of the many Layer-2 rollups in the space helping to make transactions faster and cheaper on Ethereum. However, Arbitrum has managed to stand out from the rest, emerging as a leader in this sector.
Arbitrum Controls Majority Of Layer-2 TVL
Arbitrum, despite being younger than some of the Ethereum Layer-2 blockchains in the market, has been able to snag a significant portion of the market share for itself. According to data from DeFiLlama, the Layer-2 blockchain accounts for approximately 70% of in total value locked (TVL) across all Layer-2 blockchains.
Out of the over $4 billion locked across each of these networks, Arbitrum's TVL is currently sitting at $2.794 billion. This puts it ahead of its predecessor Polygon, and fierce rival Optimism, both of which have TVL of $1.088 billion and $907 million, respectively.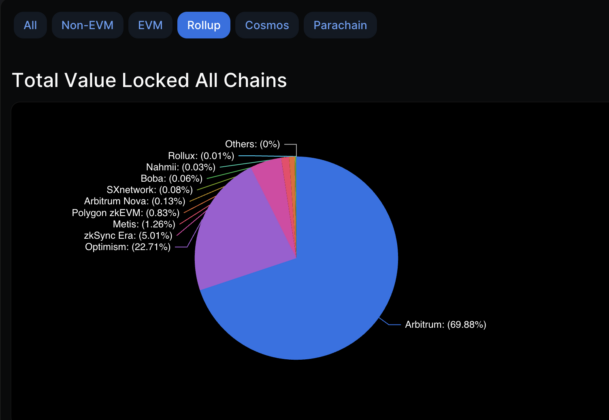 Arbitrum accounts for 70% of Layer-2 TVL | Source: DeFiLlama
However, when it comes to daily active users, the Polygon blockchain is ahead of its peers. DeFiLlama's data shows that in the last 24 hours, Polygon's active users have crossed 404,000, while there have been a total of 161,273 active daily users on Arbitrum, with 104,927 daily active users for rival Optimism blockchain.
Nevertheless, Arbitrum leads in terms of volume with $481 million in the last day. To put this in perspective, Polygon's 24-hour volume is sitting at $240 million and Optimism is recording only $75 million, coming out as the poorest performer of the couple.
Will ARB Be A Great Performer In The Bull Market?
Now, Arbitrum launched its native ARB token in what is arguably a bear market, and given this, the token has not performed too well. However, given the performance of the Layer 2 blockchain coupled with its growing popularity, it could just be the bullish narrative needed to outperform in the bull market.
If Arbitrum continues to grow and Layer-2 blockchains maintain their dominance, then a repeat of the 2021 bull market is not out of the ordinary. To put this in perspective, the price of Polygon's native token, MATIC, went from $0.017 in January 2021 to almost $3 by January 2022. If ARB follows this same pattern, then it is possible that the digital asset hits $10 in the next bull market.
For now, ARB is still following the general market trend. The price of the digital asset is up 9.34% in the last day to put its price at $1.24 at the time of this writing.
ARB price crosses $1.22 following 24-hour rally | Source: ARBUSD on Tradingview.com
Follow Best Owie on Twitter
for market insights, updates, and the occasional funny tweet… Featured image from iStock, chart from TradingView.com