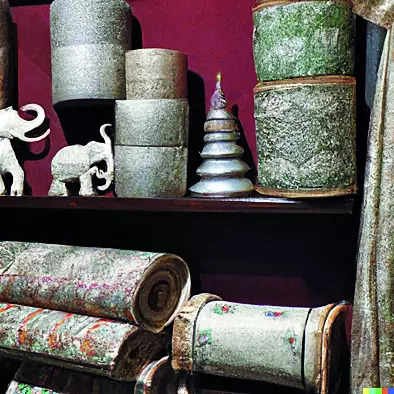 The
India International Trade Fair
(IITF) 2023 is underway in Delhi. One of the most exciting pavilions this year is showcasing geographical indication (GI)-tagged products. The GI pavilion – which has 600 artists and craftspersons from 28 states and UTs with more than 200 GI products, including Gond and Warli paintings,
Sandur Lambani
embroidery and
Odisha Pattachitra
– is just a snapshot of the range of top-of-the-line artistic products
India
offers. It also underlines the need to tap the emerging market of these homegrown valuables.
GI is a sign used on products with a specific geographical origin and possess qualities typical to that origin. This tag signifies the product's unique identity. Such products are exclusive, and should, therefore, command a premium price. For a buyer, the tag means the product is genuine – and authenticity commands a price of its own. Many GI products also have QR codes that provide you detailed, in-depth information, including the artist herself talking about her works and where they come from.
Worldwide, there is a rising demand for exclusivity. Affluent Indians with an eye on premium products have joined the league. India must make best use of this opportunity. Already, some measures have been taken. GoI is pushing states to educate their craftspersons, as well as farmers, on GI certification and how to promote their products/produce. In Budget 2023-24, it promised to provide financial assistance to eligible agencies for undertaking initiatives to promote GIs. While these are good steps, India still lacks a comprehensive policy and a strong quality-check regime to promote GI products. These issues need to be addressed to make our artists and craftspersons richer and give birth to Indian brands.