In an era where technology dominates almost every aspect of our lives, the legal industry cannot afford to stay behind. While the law has traditionally been a profession that values face-to-face interaction, the surge in digital transformation has paved the way for law firms to expand their reach and efficiency by moving online.
Adopting an online presence is no longer optional for law firms that want to stay competitive. It allows you to connect with clients more efficiently, streamline operations, and tap into a broader market. In this article, we will explore how to transition your law firm online, using a strategic four-step approach.
Step 1: Build A Robust Website With SEO
Select a Domain and Hosting Provider
Choose a domain that resonates with your law firm's name or practice areas. Pick a reliable hosting provider, ensuring it offers sufficient bandwidth, speed, and security features.
Design a Professional Website
Work with skilled web designers or use website building platforms to create a visually appealing and user-friendly site. Include essential pages like "About Us," "Services," "Contact Us," and a blog section.
Implement SEO
Search engine optimization (SEO) is vital to make your website more discoverable on search engines. By optimizing your site with relevant keywords, meta descriptions, and high-quality backlinks, you'll ensure that potential clients can find you more easily. Regularly update your blog with informative legal content to improve your SEO ranking.
Step 2: Embrace Digital Tools for Client Communication
Utilize Secure Communication Platforms
Implement secure messaging apps or platforms that comply with legal privacy regulations to communicate with clients efficiently.
Offer Online Consultations
Through video conferencing tools, offer online consultations, making it more convenient for clients to reach you regardless of location.
Step 3: Implement Cloud-Based Legal Management Software
Choose Suitable Software
Invest in cloud-based legal management software tailored to your firm's needs. Look for features like case management, time tracking, billing, document management, and collaboration tools. Research various software solutions, consult user reviews, and opt for free trials if available to ensure the selected software aligns with your firm's unique requirements.
Train Your Team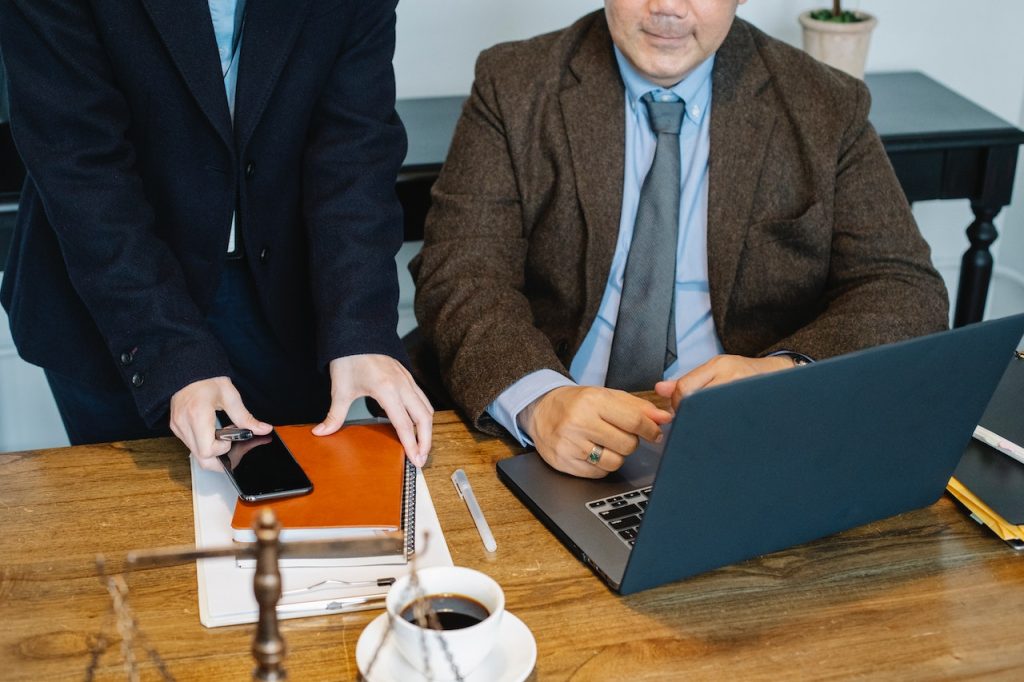 Providing adequate training to your team is crucial to maximizing the benefits of your selected software. Start by identifying key team members who can act as internal champions and trainers. Conduct comprehensive training sessions that cover every aspect of the software, from basic navigation to advanced features.
Make use of the training materials provided by the software vendor, including video tutorials, guides, and webinars. Implement a continuous learning program to keep your team up-to-date with any updates or new features. Assess your team's comfort level and proficiency periodically, and offer additional support as needed. Remember, a well-trained staff not only boosts productivity but also ensures that your investment in technology pays off.
Step 4: Engage in Social Media and Online Advertising
Build a Social Media Presence
Engaging with clients and prospects through social media channels like LinkedIn, Facebook, Twitter, and Instagram is no longer a choice but a necessity. Start by creating professional profiles that reflect your law firm's brand image. Share legal insights, news, updates, and even behind-the-scenes glimpses of your team to foster community engagement.
Build relationships by responding to comments, engaging in relevant conversations, and connecting with industry influencers. Monitor social media analytics to understand your audience's preferences and adjust your strategy accordingly. Consistency is key, so create a content calendar to maintain regular posts. Social media not only enables you to reach a wider audience but also humanizes your brand, making it more relatable and trustworthy.
Invest in Online Advertising
Online advertising, through platforms like Google Ads or Facebook Advertising, offers a strategic way to target potential clients in your area or specific practice domains. Start by defining clear advertising goals, whether it's increasing website traffic, brand awareness, or lead generation.
Work with digital marketing experts or invest time in learning the tools to create compelling ads that resonate with your target audience. Utilize demographic targeting, retargeting, and location-based advertising to make your ads more effective. Monitor the performance of your campaigns, analyze the return on investment, and adjust your strategies as needed. Investing in online advertising not only helps in acquiring new clients but also in positioning your law firm as a thought leader in the legal space.
In Conclusion
Moving your law firm online is a significant step towards modernizing your practice. By following these four critical steps – building a robust website with SEO, embracing digital communication tools, implementing cloud-based legal management software, and engaging in social media and online advertising – your law firm can not only enhance its reach but also improve operational efficiency.
In an increasingly digital world, adapting to online platforms is not just about staying relevant but also about providing better, more accessible services to clients. By integrating the latest tools and technologies, you're ensuring that your law firm is equipped to meet the evolving demands of the legal industry and the clients it serves. Remember, the transition to an online platform isn't an overnight process; it requires careful planning, execution, and continuous improvement. Invest in the right resources, and your law firm will thrive in the online landscape.