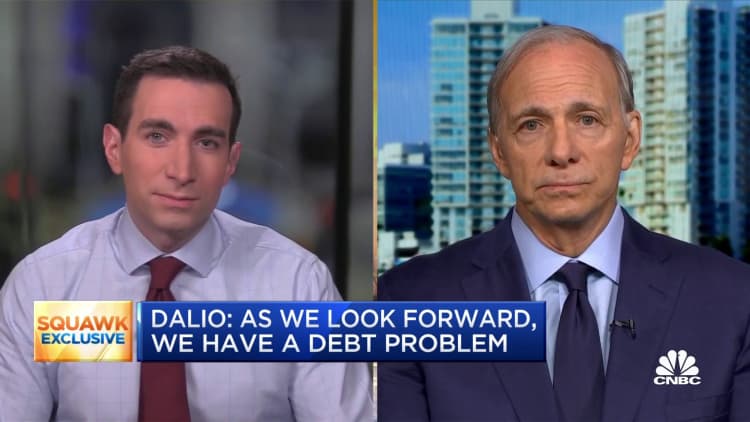 Soaring U.S. government debt is reaching a point where it will begin creating larger problems, Bridgewater Associates founder Ray Dalio said Friday.
The hedge fund titan warned during a CNBC appearance that the need to borrow more and more to cover deficits will exacerbate the political and social problems the country is facing.
"Economically strong means financially strong," Dalio said on "Squawk Box." "Financially strong means: do you earn more than you spend? Do you have a good income statement as a country? And do we have a good balance sheet?"
The U.S. is $33.7 trillion in debt, a total that exploded by 45% since the Covid pandemic in early 2020, according to Treasury Department data. Of that total, $26.7 trillion is owed by the public. Last year, the government rang up a $1.7 trillion deficit as it sought to keep up the pace of spending.
As the debt built up and the Federal Reserve raised interest rates to try to tamp down inflation, the government spent $659 billion on net interest costs in fiscal 2023 to finance the debt.
Dalio said that is a recipe for trouble.
"The worse that gets, the more we are going to have that long-term problem," he said. "You can see it in the numbers. It's just a matter of numbers. We are near that inflection point."
Along with the basic budget issues, Dalio also cautioned that foreign buyers, who make up about 40% of demand for U.S. Treasurys, have been backing off, creating a supply-demand problem.
Data through January indicates that foreign holdings of U.S. government debt total $7.4 trillion, down $253 billion, or 3.3% over the past year. China in particular has cut its holdings strongly, pulling back 17% during the period.
"You want to keep spending at the same level, there is the need to get more and more into debt. The way that works, it accelerates," Dalio said. "We are at the point of that acceleration, which creates the supply-demand problem. It's made worse by the other issues that we're talking about, the internal political issue, the internal social conflict issue."
Don't miss these stories from CNBC PRO: