It's been more than a year since the historic Terra LUNA crash saw USTC de-peg but the community has still not given up on the cryptocurrency. The latest development comes in the form of a proposal that wants to stop the minting of new USTC, which could end up being a positive for the price.
The Road To Re-Pegging USTC
A proposal was submitted to the Terra Classic community to stop the minting of USTC which was originally a stablecoin. The proposal which was submitted on September 14, 2023, asked that all minting and reminting of tokens should be halted unless the community approves it.
The proposal goes further into the mechanism of USTC such as in the case where users are able to use xUST to mint USTC. This would close one of the most impactful loopholes in the minting mechanism of the token, reducing the amount being brought into supply.
As for efforts to re-peg USTC to the US dollar, the author explains that minting and reminting of USTC without the Terra Classic community approval was leading to wasted effort on the part of those dedicated to burning the token. Instead, the proposal asked that the Algo Quant team be paid to re-peg the token to the US dollar as the community continues burning tokens.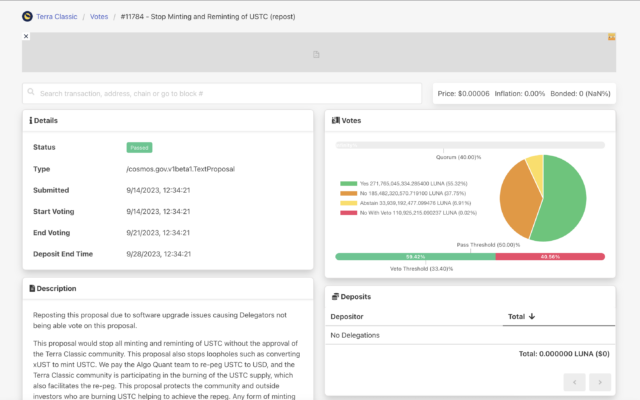 Proposal to halt minting passes | Source: AtomScan
The advantage of doing this comes in the form of allowing larger institutions such as Binance to burn USTC, just as the exchange is already burning Luna Classic (LUNC). "This proposal protects the community and outside investors who are burning USTC helping to achieve the repeg," the proposal reads.
Terra Classic Community Casts Its Vote
The proposal to halt the minting and reminting of USTC tokens without the community's approval quickly gained popularity and stakeholders cast their votes. The voting ran for a little over a week and in the end, votes in favor of the proposal prevailed.
Data from ATOMScan shows that a total of 59.42% of votes wanted to halt minting and reminting. 40.56% of votes were against the proposal, while 6.91% of voters chose to abstain from voting. Since the Pass Threshold required is 50% of all votes, the proposal to end minting and reminting has been passed.
Halting the minting and reminting will see a pause in new supply that could translate to a positive for the token. As more USTC is burned and there are no more tokens being pumped into circulation, re-pegging to the US dollar becomes more of a possibility.
At the time of writing, the total supply of USTC is sitting at 9,793,581,881. With a current price of $0.01261, its market cap is just a little over $123 million. If the token were to regain its dollar peg, it would put its market cap around $9 billion.
Token surges amid re-pegging expectations | Source: USDTBUSD on Tradingview.com