Veteran German pop artist Thomas Bayrle's latest work, which was unveiled atop the former Fiat factory in Turin's Lingotto district this month, casts an ambivalent verdict on the future of the product that used to be made a few storeys below.
Three upright loops made out of one circular strip of flat metal, the sculpture, entitled Flamingo, evokes the assembly lines where the Italian carmaker used to make its racing machines and the La Pista 500 rooftop test track where their horsepower was put to the test. But it also looks a bit like a road that is going nowhere.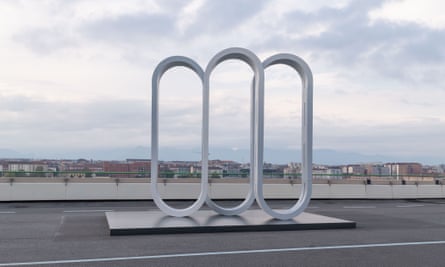 "The mass production of automobiles has always held a fascination for me", said Bayrle, 86, in an interview at his Frankfurt studio before the Turin retrospective. "The car sped up every aspect of our society. But these days there's a counter-argument that cars are no longer progressive, and there's something in that. They are also monsters, crazy monsters."
No other German artist has chronicled his homeland's love-hate relationship with the four-wheeled symbol of its economic prowess as obsessively as Bayrle. Long an overlooked node in the West German pop art network that included Gerhard Richter and Sigmar Polke, his career has enjoyed a second spring over the last 15 years, with major shows at the Barcelona Museum of Contemporary Art (Macba) and the Documenta exhibition in Kassel, Germany.
What makes Bayrle's work unusual is that he has never recognised a distinction between his country's inward-facing cultural traditions and export-focused industry. "I was just as interested in the philosophy seminars of Theodor Adorno as the Volkswagen assembly line," he said. The first room of the Form Form Superform exhibition, his retrospective at the Pinacoteca Agnelli post-industrial complex, is plastered in kaleidoscopic wallpaper showing Chryslers made out of the carmaker's logo.
The middle of the room is filled with combustion engines that chug along to loops of Édith Piaf, Giuseppe Verdi and Erik Satie. Elsewhere in the show, there are interlacing cardboard lattices resembling motorways, tyres imprinted with rosaries, and a portrait of Fiat magnate Gianni Agnelli.
The artist's background might make his fascination with cylinders and crankshafts unlikely. Born in Berlin, Bayrle spent his formative years in 1960s Frankfurt, a peripheral city in the West German art scene but a hotbed of the radical student politics that tried to break with the continuities of the Nazi period. Many of its leading thinkers saw Henry Ford-ist methods of mass production intrinsically linked to the rise of fascism.
Bayrle's earliest works, which are not shown at the Turin retrospective, were agitprop rather than pop art, including a screen-print poster of the student leader Rudi Dutschke. Carrying the words "The revolution won't die of lead poisoning", it was printed in the workshop of Bayrle and his colleague Bernhard Jäger the night after Dutschke was shot by a rightwing fanatic, and then plastered all over German cities the next day.
Andreas Baader and Ulrike Meinhof were among his acquaintances, but he waved away the rumour that he designed the logo of the leftwing terror group they would go on to form, the Red Army Faction.
Even then, his political convictions did not rule out an interest in industry. "There was a conservative group within the left who rejected progress outright," he recalled. "I felt that technological and political progress needed to be brought together."
A more stringent Marxist would have made collages that exposed the exploitation of human capital behind Germany's economic miracle. But in Bayrle's pixelated picture of a Volkswagen Beetle, the serialised graphic motifs are not drops of workers' sweat but thousands of tiny cars.
This method of composition, using tiny digital-looking but hand-drawn "super-forms" to build a bigger image, became his calling card, applied to every corner of society where he saw methods of mass production: at the Turin show, there are posters of swimmers made of tiny swimmers, planes made of tiny planes, and lusty couples made of swinging genitals and bouncing bottoms.
"I am interested in monotony," he said. "Because even when repetition looks identical, it rarely is. My firm belief is that there is no such thing as the same, but only the very similar."
His interest in the aesthetics of mass production was shaped by a two-year apprenticeship in a modern weaving factory in southern Germany, where some workers were overlooking 45 automated looms at the same time. To the luck of the art world, his career there came to an abrupt end when the factory was sold to China.
Seventy years later, there are fears in Germany that the story of its declining textiles industry could replay itself in its proud car sector. Accounting for around 5% of the economy, German carmakers have struggled to recover from the pandemic and fraying supply chains, with production this year lower than in 2019. Increasing local competition in China, its single biggest export market, is another factor behind the fears of a downturn. Bayrle's exhibition in Turin could be less of a celebration of the age of the European car than a commemoration.
Some of the recent super-form pictures Bayrle has made, which are not showing in Turin, look elsewhere for icons of industrial progress: via email, his studio assistant shares pictures of Elon Musk composed of Teslas, Bill Gates made of computer screens and a haystack of iPhones.
"I believe the age of the car will persist for some time, because without it we would have gigantic transport problems," Bayrle said. "But things will keep changing, and you can no longer idolise the automobile in a straightforward way."
The Fiat parked outside the innercity apartment where he has his studio, Bayrle explained, was not his. These days, he prefers cycling.